Nizoral Shampoo 200ml (7.0 oz) 2% Ketoconazole
Nizoral Shampoo 200ml (7.0 oz) Large Size
2% Ketoconazole Solution
Anti-Dandruff
Treats Itchy Scalp
Fights Seborrheic Dermatitis
Shampoo for Psoriasis
Get 3 or More, SAVE 25% NOW!
nizoral shampoo 2,shampoo nizoral,anti dandruff shampoo,buy nizoral,shampoo for psoriasis
Hurry up! Only
20
item(s) left in Stock!
What is Nizoral Shampoo? How does it work?
Nizoral ® is used to treat and prevent dandruff and its symptoms such as dry, flaky, red, itchy scalp. Nizoral ® Anti-Dandruff and Seborrheic Dermatitis Shampoo is dermatologically tested. It works by treating the underlying cause of dandruff, by restoring your scalp back to its normal healthy state.
How to use Nizoral Shampoo?
1. Wet hair. 2. Apply a small amount to scalp. Work into a lather. 3. For best results leave on scalp for 3-5 minutes. 4. Rinse thoroughly. For the first 2 to 4 weeks: use every 3 or 4 days to clear dandruff. Thereafter: use once every 1 or 2 weeks to prevent dandruff from coming back.
Is it good for hair loss?
It has been proven that Nizoral Shampoo can help reduce hair loss due to its DHT blocker properties. Even though its primary role is to combat fungal problems, Nizoral Shampoo helps reduce scalp inflammation. As a result, it may promote blood flow and nutrients to the scalp. Study shows that Nizoral is also an anti-androgen solution while comparing it to minoxidil. Conclusions state this Ketoconazole shampoo is a DHT (dihydrotestosterone) blocker that may stop and reverse hair loss caused by male pattern baldness. As it disrupts the testosterone to DHT, users report positive results when Nizoral Shampoo is on the scalp for five minutes minimum twice a week for hair loss purposes.
What's new
The updated version of the Nizoral Shampoo now features a refreshed design on the bottle. While the color scheme has been slightly modified, going from white and red to white, blue, and red, all the ingredients that have made Nizoral Shampoo remain identical. In addition to the design update, you will now find new text on the front of the bottle. Phrases like "Original," "Medicated Anti-dandruff Shampoo," and "Clinically Proven" have been added. These phrases highlight the shampoo's authenticity, its targeted use against dandruff, and the scientific backing it holds.
Unchanged Excellence: We want to assure you that the core of Nizoral Shampoo, the powerful formula that effectively tackles dandruff, remains exactly the same.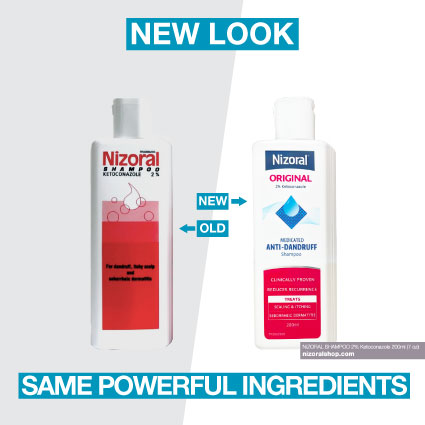 Ingredients
Nizoral Shampoo's main active ingredient is Ketoconazole 2%. The inactive ingredients are COCO DIETHANOLAMIDE, DISODIUM LAURETH SULFOSUCCINATE, FD&C RED NO. 40, HYDROCHLORIC ACID, IMIDUREA, PEG-120 METHYL GLUCOSE DIOLEATE, SODIUM CHLORIDE, SODIUM HYDROXIDE, SODIUM LAURETH-3 SULFATE, WATER.
Nizoral Shampoo Expiration Date
The production date can be found at the back of bottle as "MFD" in DD-M-YYYY format along with the batch production number. For optimal results, it is recommended to use the treatment before the expiry date "EXP" in DD-MM-YYYY time format, which is also displayed at the back of each bottle.
What Doctors Say About Nizoral Shampoo Treating Acne
You might also like
Regular price
$34.95
Price
$34.05
Regular price
$36.95
Price
$35.95
4 other products in the same category:
Customers who bought this product also bought: